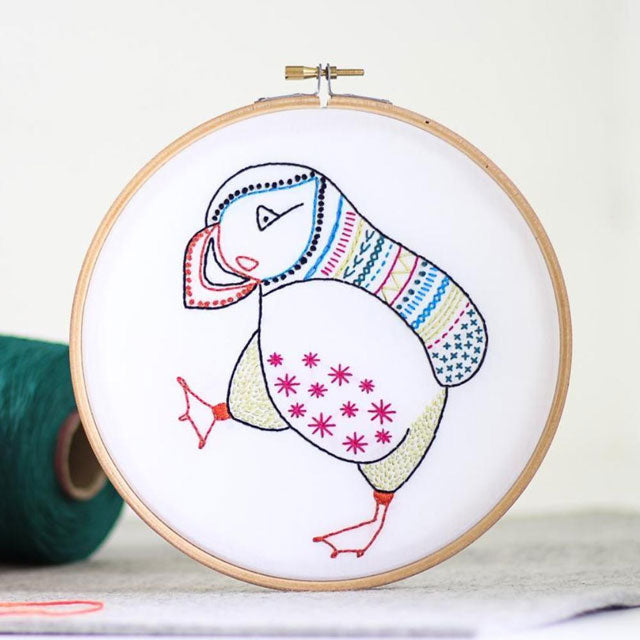 There is so much good stitching happening across the pond, and today we are excited to introduce you to two fabulous contemporary cross stitch and hand embroidery designers from the UK that are new to the shop: Hawthorn Handmade and Bothy Threads.
Hawthorn Handmade
In 2010, Stephanie Carswell opened a haberdashery and crafts shop in her home town. She taught herself how to needle felt so she could teach it in the shop, and as she told me recently, "it sparked something."
It sparked something in her customers too, and Stephanie soon started producing needle felting kits to sell. She eventually closed her shop to focus on making kits full time.
Stephanie's adorable kits are a perfect introduction to needle felting. Most can be done in a couple of hours, and with step-by-step instructions, they are ideal for beginners.
Stephanie also started designing equally adorable hand embroidery patterns, calling on her longtime love of drawing to create stitchable illustrations. Each whimsical design uses a range of simple stitches that are perfect for beginners and experts alike.
See the full range of Hawthorn Handmade kits in the shop.
Bothy Threads
Bothy Threads is a popular UK design house that works with local independent artists to translate their artwork into cross stitch. It was founded more than 20 years ago by Kate Golby in a small cottage, or bothy, in northern England. When Kate ran out of things she wanted to stitch, she started asking local artists if she could turn their work into cross stitch patterns.
Two decades later, Bothy Threads now licenses the designs of more than 20 artists. At Stitched Modern, we were particularly drawn to colorful designs by Australian-based artist Caroline Rose (above), and the sweet patterns of Kim Anderson (below), among others.
See the full range of Bothy Threads cross stitch kits in the shop. Can't get enough of British designs? See all our UK designers in this collection.