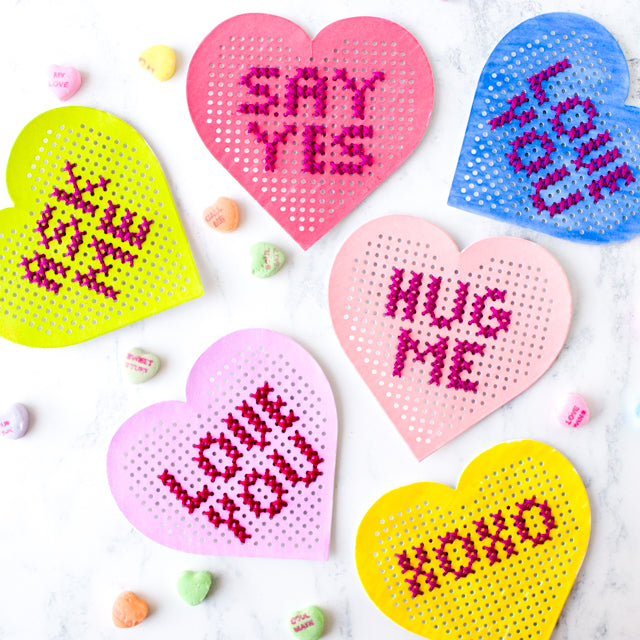 Candy conversation hearts are a Valentine's Day favorite, and this fun cross stitch version lets you supersize the conversation! Made with pre-cut paper hearts, it's a fast and easy project even if you don't have much stitching experience. They're so fun to stitch that you're going to want to make a whole batch.
Candy is one way to show you care on Valentine's Day, cross stitch is another. This project combines the best of both! 
Materials
Watercolor markers
Embroidery floss (We used DMC #917)
Scissors
Color the paper hearts
One side of the paper hearts will be smooth, while the other will have rough edges where the paper was punched. Either side can be the front, but it is easier to color with markers on the smooth side.
Select a palette of watercolor markers in candy colors, and use them to fully color in the paper hearts. You may need to do several coats. The paper may curl a bit after you color it. Leave it under a heavy stack of books to flatten it.
Stitch the sayings
The chart below gives options for several classic conversation heart sayings, but feel free to make up your own.
Before stitching, it can be helpful to lightly mark your stitches on the paper with a pencil. That way you can make sure the design is centered and placed where you want it. The marks will be hidden by your stitches.
Stitch using all six strands of embroidery floss. Work with lengths of floss that are approximately 18 inches long. For more detailed instructions, see our beginner's guide to cross stitch.
Finish the hearts
If you want to cover the back of the hearts, trim a piece of scrapbook paper to size and attach it with a thin layer of glue. You can even write a little love note on the backing paper to give to someone special.
The fun thing about this project is you can customize it to your heart's content, from the colors you use to the messages you stitch. The finished hearts make perfect classroom Valentines. You can also string them into a pretty garland, or use them to decorate a Valentine's Day gift for someone you love.