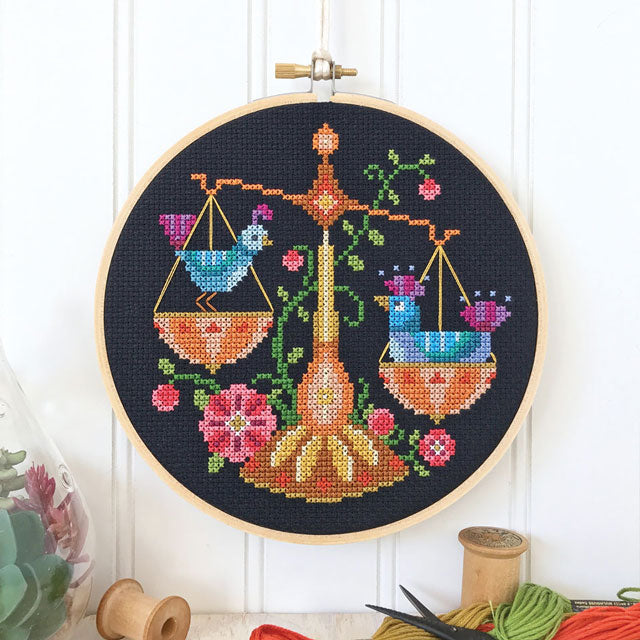 What's your sign? Progressive Aquarius? Daring Aries? Gentle Gemini? Whatever you are, you will love this new zodiac cross stitch series by Satsuma Street.
There is a separate pattern for each sign in the Zodiac. In typical Satsuma Street style, the designs have a charming folk-art feel, with a bright modern color palette.
Designer Jody Rice has stitched them all up on black Aida, but they look just as lovely on lighter fabric. We offer the pattern as a bundle that includes all the floss you need, a complimentary needle, and your choice of fabric in black or a pretty light oatmeal color (the same color Jody uses for her ever-popular Pretty Little City series).
If you plan to stitch them on black, make sure to check out our post on 8 tips for cross stitching on dark fabric.
Stitch your own sign, or make one up to give to someone special. You can see the full series here. Not sure what your astrological sign is? Check out the list below and happy stitching!
Jan 20 - Feb 18: Aquarius
Feb 18 - Mar 20: Pisces
Mar 20 - Apr 20: Aries
Apr 20 - May 21: Taurus
May 21 - Jun 21: Gemini
Jun 21 - Jul 22: Cancer
Jul 22 - Aug 23: Leo
Aug 23 - Sep 23: Virgo
Sep 23 - Oct 23: Libra
Oct 23 - Nov 22: Scorpio
Nov 22 - Dec 21: Sagittarius
Dec 21 - Jan 20: Capricorn
Find more patterns by Satsuma Street in the Stitched Modern shop.