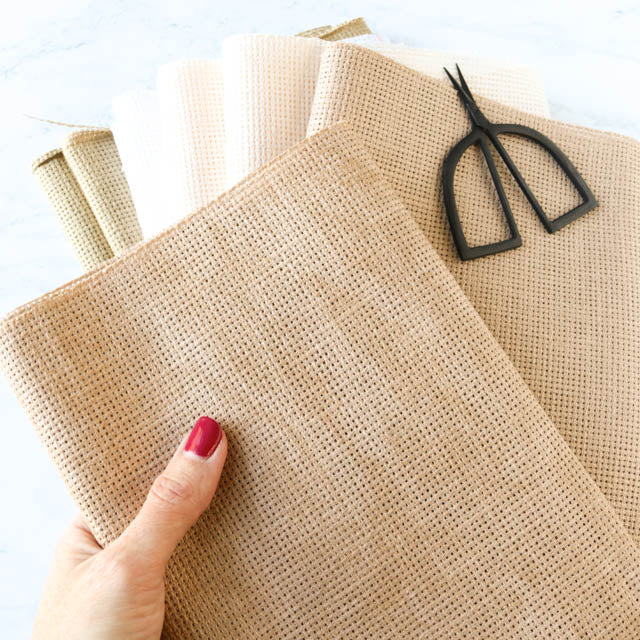 Looking to make a big impact with your cross stitch? We now have just the thing! New in the shop is a range of lower-count fabric that will give your stitches a gloriously big and chunky look. It's the perfect choice for retro-inspired projects, larger pieces like pillows and afghans, and even for teaching kids to stitch.
10-count Tula cross stitch fabric
Tula is an open-weave fabric similar to Aida. It has big holes that are super easy to see. At 10-count, Tula will give you 10 stitches per inch. Tula is generally stitched with four strands of embroidery floss using a size 22 or 20 tapestry needle.
(Related content: What does fabric count mean in cross stitch?)
Made of 60% rayon and 40% cotton, Tula has a softer hand and drape than Aida, which makes it suitable for home projects like afghans. Because it lacks stiffness, you might want to use a hoop or frame when stitching with Tula.
At Stitched Modern we stock 10-count Tula in range of pretty neutrals including, Sand, Country Mocha (which is variegated on one side and solid on the other), Cream, and White.
20-count Cork cross stitch fabric
Cork cross stitch fabric is an evenly woven 100% linen fabric with a beautiful texture. At 20-count, it is finer and more densely woven than Tula. Like other linen fabrics you might be familiar with, Cork is often stitched over two to give 10 stitches per inch, but can be stitched over 1 for very fine stitches.
Related content: What does it mean to cross stitch over two threads?
When stitching over 2, use four strands of embroidery floss and a size 22 tapestry needle. When stitching over 1, use one strand and a size 28 needle.
Cork linen is available in soft neutral tones, including White, Antique White, and Raw/Natural.
Projects for 10-count and 20-count fabric
You can stitch any cross stitch pattern you want on on Tula or Cork fabric, but those with either a contemporary or retro feel are particularly suited to the chunkier stitches the fabric creates.
Quilt and fabric designer Lori Holt has a line of cross stitch patterns designed specifically for 10-count Tula fabric, and they are a perfect match for the fabric. If you want the big stitch look, but prefer a somewhat more refined fabric, substitute 20-count Cork and stitch over two threads. The finished size will be the same.
Lori Holt has her own line of 10-count fabric she calls Vintage Cloth. The colors in her line match very closely to the 10-count Zweigart Tula fabric we stock at Stitched Modern. Here's a handy chart to help you match colors.