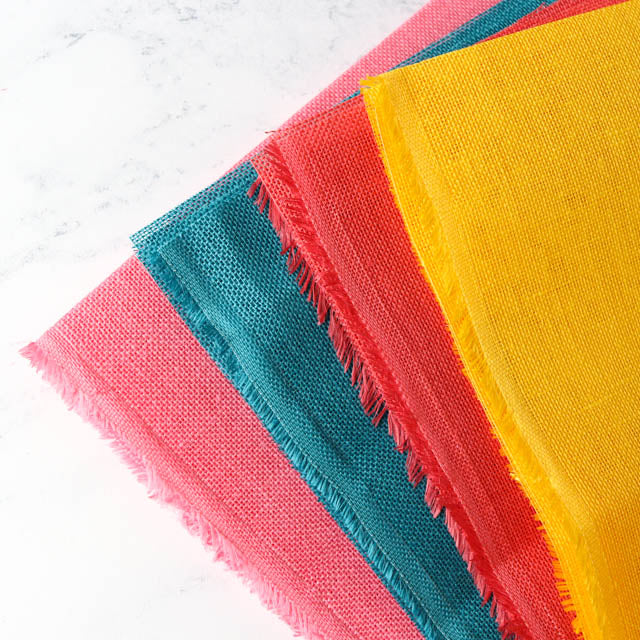 We got piles of new fabric in the shop this week, which is always a happy occasion! There is linen in new colors and new counts, along with Aida in some gorgeous colors. From neutral to brights, there is something for everyone in this batch!
New linen and evenweave basics
Some of our most popular linen colors, including white, natural/raw, and chalkboard black are now available in 32 count in addition to the 28 count we have always stocked.
In addition, we now have 28-count linen in Antique Ivory, a beautiful parchment-colored linen that would be a great choice for a sampler or something more traditional. We also now stock 28-count evenweave in a rich navy blue. So lovely!
New Aida colors
When it comes to neutral Aida fabrics, I have a new favorite: Confederate Gray. I am using this Aida cloth for the Sister Suffragette pattern by Summer House Stitche Workes, and it's perfect. Confederate Gray is a very light gray with blue undertones. It's a good choice when you want something neutral that isn't brown.
Neutrals not what you're looking for? We also now have Aida in some lovely brights, including Light Blue, Mediterranean Sea, and my favorite, Raspberry Sorbet. (The Raspberrry Sorbet would look particularly fantastic stitched with this floral cross stitch pattern by Japanese designer Gera!)
All our fabric listings tell you what DMC floss color is the closest match to make it easier to find the perfect color for your next project!
New linen brights
If it's linen with an impact you're looking for, we have that too! New in the shop are some colors that just scream summer, including pretty Tropical Pink and the vibrant Riviera line featuring Aqua, Gold, and Coral. Just looking at the fabric is enough to chase away the winter blues!
Shop our full range of fabrics here. And if you want to be the first to know when new fabric, patterns, and notions arrive in the shop, sign up for our newsletter!