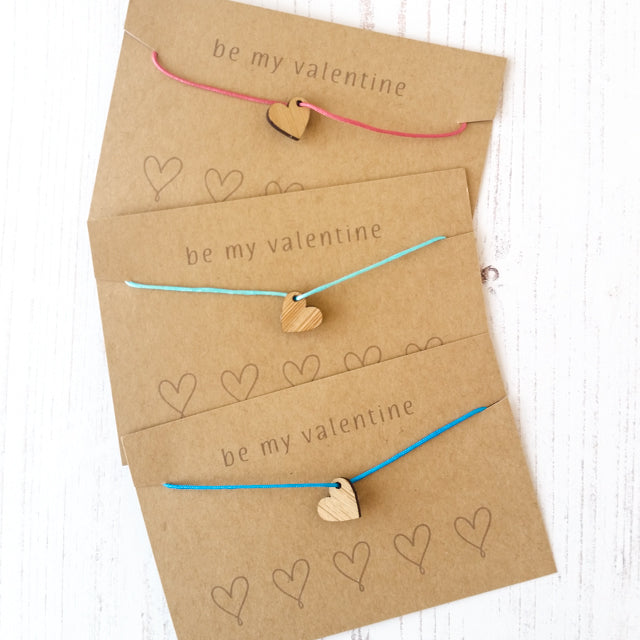 These sweet friendship bracelets are perfect for everyone on your Valentine's list. They take seconds to make, so you can make a big batch, and the free printable backing card makes them delightfully giftable.
The bracelets feature mini bamboo heart charms paired with colorful cording and a simple bead closure. They are adjustable so they will fit all wrist sizes. Perfect for kids and adults alike!
Check out the tutorial below to learn how to make them.
Materials
Cord or string. We used 1mm Chinese knotting cord. Embroidery floss or pearl cotton would also work.
Seed beads or similar. The size of the seed bead you use depends on how thick your cord or string is. We used size 6 seed beads.
Big-eye beading needle
Printable scrapbook paper or cardstock. We used kraft paper cardstock, but white or other colors would work.
How to make the bracelet
1. Cut about 18 inches of cording and thread it through the hole in the heart charm. You can use a beading needle if necessary to thread the cord through the hole.
2. Using a beading needle, thread both ends of the cord through a bead. The bead will be used to secure the bracelet. It needs to be large enough to just accommodate the cording, but it should not be too loose.
3. Measure the size of the bracelet by placing it around the widest part of your hand. Slide the bead to adjust the size of the bracelet.
4. Without moving the bead, tie an overhand knot on each end of the cording to secure the bead. Trim the ends of the cord about 1/4 inch from the knot.
5. If desired, print out and cut the backing cards. Make a small slit on the side edge of each card to secure the bracelet.
That's it! A simple (and quick) way to share some love will all your Valentines this year.
(This tutorial was originally published by Red Gate Stitchery. It is reprint here with permission.)