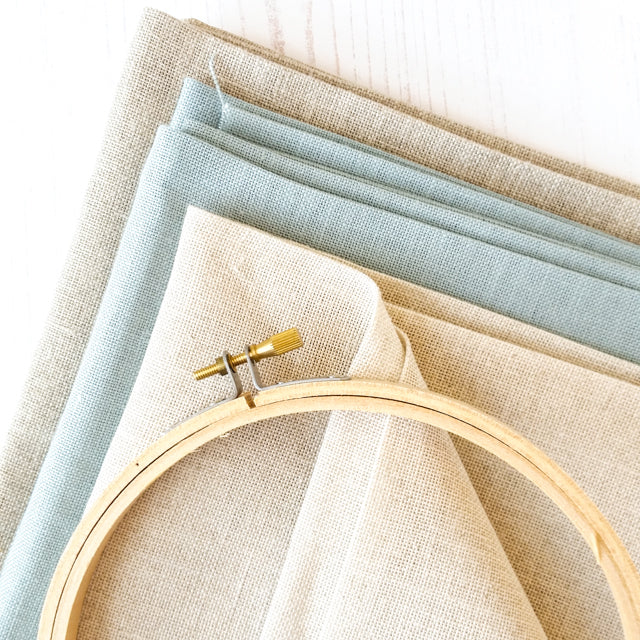 Linen is a gorgeous fabric for cross stitch. It has a beautiful drape and as a natural fiber is available in lovely colors, both raw and dyed. Linen has a higher thread count than Aida, so it gives a more refined look to your finished piece.
Stitching on linen might seem daunting if you are new to cross stitch, but it is no more difficult than stitching on Aida. There are a few key differences, but they are easy to learn. Read this post and you will be up and stitching on linen in no time.
1. What count linen to use
Like Aida, linen comes in various counts. The count determines how big, or small, your finished stitches will be. Typical linen counts range from 22 at the low end (bigger stitches) to 40 or more at the high end (teeny tiny stitches), with the most common being 28-count and 32-count.
Unlike Aida, linen is most commonly stitched over two threads (more on this below), which means 28-count linen has 14 stitches per inch and is equivalent to 14-count Aida. Similarly, stitching over two on 32-count linen will give you 16 stitches per inch, or the equivalent of 16-count Aida.
When substituting linen for Aida, double the count of the Aida to determine the count of linen to use.
2. Handling linen
Linen has a beautiful drape. It is much softer than Aida and feels wonderful in your hands when stitching. If you are stitching on linen for the first time, using a hoop or frame will make it easier to see the weave. The linen should be pulled taut in the hoop, but make sure not to stretch it so tightly that the weave is distorted.
An alternative to hoops, Q-Snap needlework frames work particularly well for linen.
3. Starting stitches on linen
Linen is a woven fabric with an over/under pattern of warp and weft threads. When starting a cross stitch piece on linen, it's a good idea to start in the middle of your fabric just like you would on Aida, but with linen you need to be aware of the weave.
After you have found the middle of the fabric, look closely at the weave. You want to start your stitch next to a vertical thread that is passing over the horizontal thread just above your starting point.
A way to remember this is to say your stitch should be "leaning against the post." Doing so will make for neater stitches that lie better on the fabric.
4. Stitching over two threads
Once you found your starting point, it's time to start stitching. Linen is most commonly stitched over two threads, meaning each stitch will pass over two warp and two weft threads. You can get the idea from the stitch diagram below, or see this post on how to cross stitch over two threads for more detailed instructions.
5. Caring for linen
Your finished cross stitch piece can be hand washed gently in cold water and light detergent. See these washing instructions for more on preparing cross stitch for finishing.
Looking for linen for your next project? Shop the collection here.