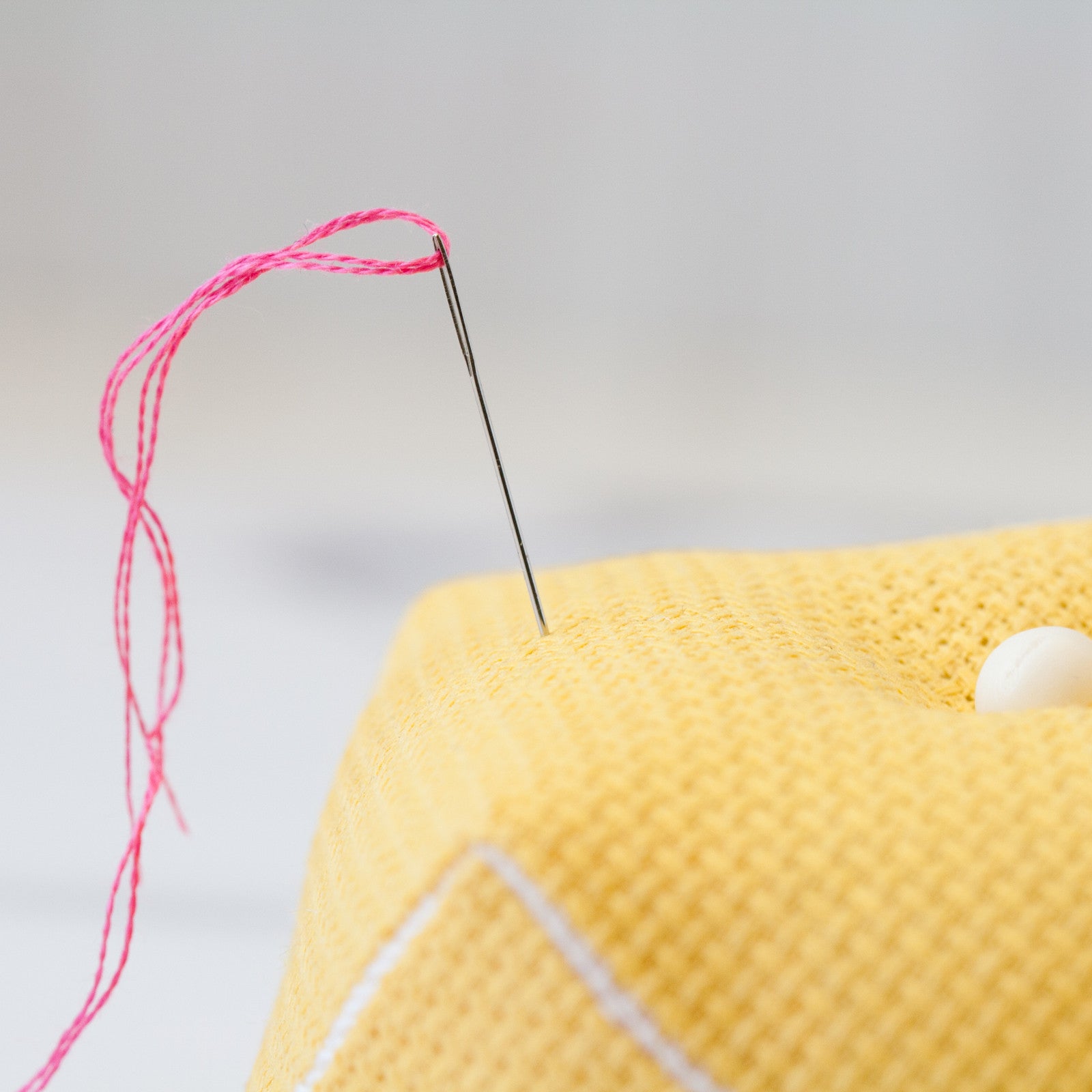 When planning a cross stitch project, you might spend lots of time thinking about what fabric and threads to use, but what about your needle? Instead of grabbing any old needle from your sewing stash, use this handy guide to select one that will give you the best stitching results.
What is a tapestry needle?
A tapestry needle is a hand sewing needle with a blunt end and a large eye. That blunt end part is important. Since cross stitch is traditionally done on fabric with an open weave like Aida, you don't need a sharp needle. The rounded tip of a tapestry needle helps ensure you don't accidentally pierce the threads of the fabric or split the fiber you're stitching with.
The large eye of a tapestry needle accommodates cotton embroidery floss, pearl cotton, and other specialty fibers you might want to stitch with. The large eye also helps keep the thread from rubbing against the fabric as you stitch, which reduces wear.
Most needles are nickel-plated, but if you are allergic to nickel, you can also find gold-plated ones.
Size matters
Tapestry needles come in different sizes which are denoted by a number just like knitting needles. But different from knitting needles, with tapestry needles the larger the number, the smaller the needle.
The size of the needle you use depends on the fabric you are stitching on. In general, the larger the holes in the fabric (that is, the lower the fabric count), the larger the needle.
The purpose of the needle is to guide the thread through the fabric. If the needle is too big, it will push apart the threads of the fabric and make a bigger hole that your stitching thread may not fill. If the needle is too small, it causes unnecessary wear and tear on your stitching threads.
Cross stitch needle size chart
Whether you are stitching on Aida or linen, use this guide to help you choose the right needle size.
| Aida | Linen | Needle size |
| --- | --- | --- |
| 6-count | | Size 18 |
| 8-count | | Size 20 |
| 11-count | | Size 22 |
| 14-count | 28-count | Size 24 |
| 16-count | 32-count | Size 26 |
| 18-count | 36-count | Size 28 |

Need needles for your project? Shop for them here.