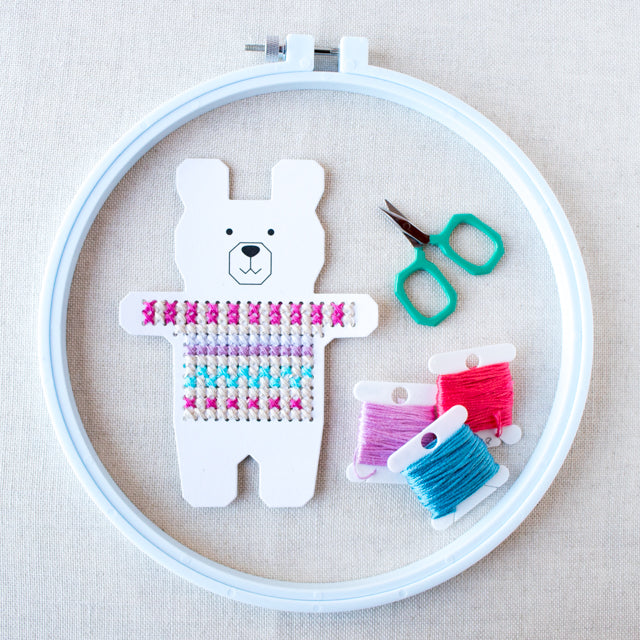 Cross stitch is a perfect craft for kids of all ages. With only one basic stitch to master, it is a great introduction to hand embroidery. Here are our favorite kits, patterns, and supplies for kids, tweens, and teens.
1. Felt pillow kits by Rico Design
Kids will love these adorable animal pillows by Rico Design. The designs are kid-friendly, and so are the materials. The stitching is done with thick wool yarn on perforated felt, so it's easier for little fingers and it goes faster than stitching with regular floss on Aida fabric. When the project is done, they will have a functional piece to display and use.
See how the pillows come together in this blog post.
2. Wood animal friends by Moon Picnic
These wood animals by Moon Picnic are easy for little hands to hold and easy for them to stitch. And they could not be cuter! Available in three styles – a bear, cat, and bunny - they are made of high quality beech wood with non-toxic paint. Stitching is done with wool yarn and a large blunt plastic needle. Each kit comes with an instruction booklet that has lots of design suggestions.
When all stitched up, these wood critters are perfect to display or for pretend play. Best of all, they are reusable. Simply pull out the stitches and start again!
3. Leather bracelet kits by Red Gate Stitchery
Looking for kits for older kids? These leather bracelet kits by Red Gate Stitchery are perfect for tweens and teens. The kits come with a bunch of suggested stitching patterns, but kids who want to can easily come up with their own patterns. When they're done stitching, kids will enjoy wearing their bracelets to show their friends.
4. Paper embroidery boards by Rico Design
Stitching on paper is so much fun, and something kids can really make the most of. These paper embroidery boards by Rico Design use a full 6 strands of floss with a larger needle, so they are good for smaller fingers. There are several different adorable animal and holiday-themed styles available. They don't come with patterns, but kids will have fun making up their own designs. It's free-style stitching without any stress.
5. Small motif patterns by Gera!
Japanese designer Gera! has a whimsical aesthetic that kids will love. While her patterns can be large and somewhat complex, a number of them feature smaller elements that can be stitched individually. For example, the pattern Dog Breeds features 15 small dogs. Kids can pick their favorite one and stitch it on its own.
Other Gera! patterns that could be treated the same way include Animal Coasters, International Kids Series 1 and International Kids Series 2.
6. Simple flower kits by Diana Watters Handmade
When considering cross stitch patterns for kids, ones that have simple designs and fewer color changes are best. The stylized flowers in the patterns Yellow Spring Flowers and Potted Flowers by Diana Watters Handmade are good choices for this reason. Best of all, they are available as kits that include fabric, thread, the pattern, and even a hoop, so kids will be able to get right to stitching.
7. Heart pendant by Red Gate Stitchery
This is another good choice for older children. The pattern on this heart necklace kit by Red Gate Stitchery is simple and easy-to-stitch. The needle in the kit is on the small side, so kids might need assistance threading it (a needle threader can make the task easier). This is a perfect project for kids who want to make something handmade to give to a friend or adult. The kit has everything you need, including the necklace chain.
8. Kid-friendly cross stitch supplies
Having their own basic supplies will get kids excited to stitch. Colorful thread snips are a good choice for little fingers, and make snipping the ends of embroidery floss and yarn easy. Threading needles can sometimes be the hardest part of stitching for kids. Make it easier with a high-quality needle threader. Choosing one of these handcrafted needle threaders will up the cute factor. When stitching on fabric, a sturdy embroidery hoop will make things easier.
Note: All of the above kits come with needles and other small parts and should be used only with adult supervision. Please use care when handling needles, scissors, and other sharp items.