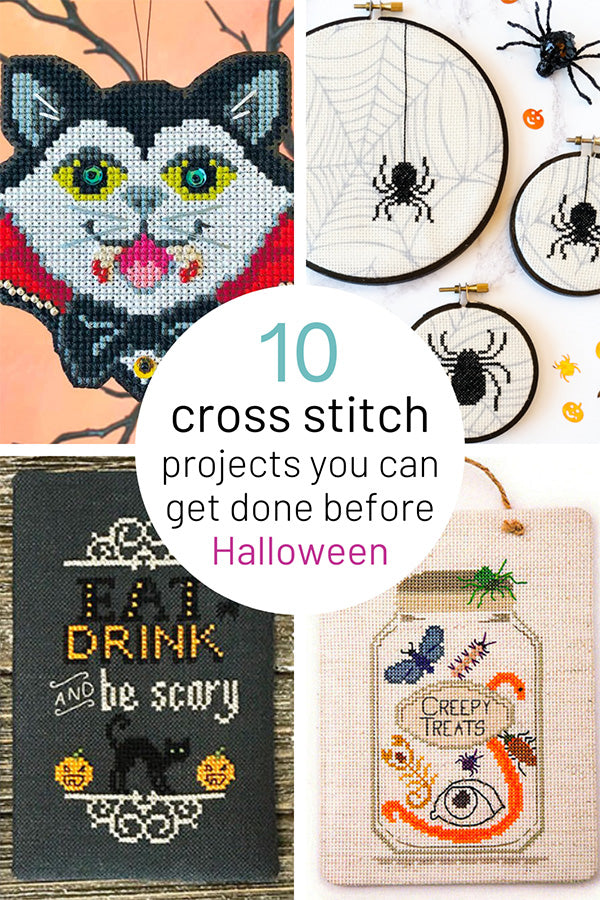 Halloween always sneaks up on me like the ghostly, ghoulish holiday it is. If you're looking to do some spooky stitching, but are running short on time, these quick and easy cross stitch projects are for you! Best of all, you can find them all in the Stitched Modern shop.
1. Tart Tin Halloween Ornaments by Colonial Needle (Link)
These quick ornaments are finished in an adorable tart tin. Everything you need- including tart tin and instructions - are included. There are four fun designs.
2. Witch House by Barbara Ana Designs (Link)
Get a glimpse into a witch's house with this small pattern by Barbara Ana Designs. I love patterns that tell a story, and this one is full of fun details to stitch. (Link: Witch House Cross Stitch Pattern)
3. Halloween Skeletons by Tiny Modernist (link)
Three skeletons are lit by a harvest moon in this quick cross stitch pattern by Tiny Modernist. With its limited color palette, this one would look fabulous and oh-so-spooky stitched with glow in the dark thread!
4. Vamp-Purr Ornament Kit by Satsuma Street (Link)
This fun ornament kit is stitched on perforated paper, which makes it especially easy to finish. It also uses beads and sequins for spooky sparkle. There are lots of other ornaments designs that are equally fun. Check them all out here.
5. A Raven's Reply by Luminous Fiber Arts (Link) 
A raven perches on top of a pumpkin and replies 'Nevermore' in this spooky cross stitch pattern by Luminous Fiber Arts. You can finish the pattern as a mini cushion as shown, or pop it in a frame. 
6. Spooky Spiders by Stitched Modern (Link)
This free pattern is so quick to stitch you can make a whole cluster! The pattern looks especially fabulous when stitched on cobweb Aida fabric.
7. Halloween Calendar by Tiny Modernist (Link)
This pattern is not particularly small, so you may be wondering why it's on this list of last-minute stitches. But what's wonderful about this design is all the fun little Halloween motifs. You could easily just pick one or two to stitch and frame in an itty bitty hoop. So cute!
8. Creepy Treat Jar by Annalee Waites (Link)
You will want to think twice before reaching into this jar of Halloween treats! A spider, a cockroach, an eyeball, and various creatures are stitched inside the jar labeled Creepy Treats.
9. Halloween Signs by Tiny Modernist (Link)
These vintage-inspired cross stitch signs are stitched on chalkboard black fabric. There are four designs in all - stitch one or all!
10. Day of the Dead Sugar Skull by Satsuma Street (Link)
These bright and colorful sugar skulls are so fun to stitch! The kit comes with everything you need, including beads and sequins.
Want more seasonal stitching? Check out all our Halloween and fall cross stitch and embroidery patterns here.