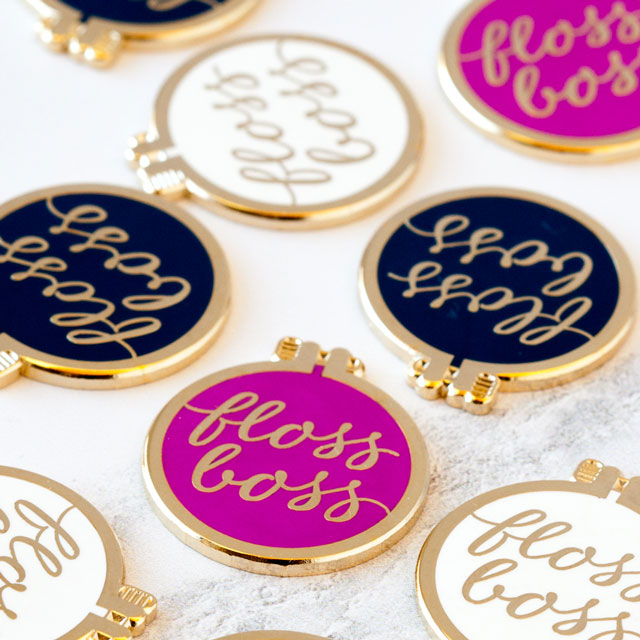 No matter how many supplies and tools we collect as stitchers, there is always something new to discover. From stocking stuffers to splurges, here are some ideas for the stitchers on your list.
1. Floss Boss needle minder
Tell your favorite stitcher that you know they are a floss boss with this enamel needle minder. The needle minder has a magnet on the back, so it holds a stitcher's needle when not in use. It's the perfect accessory, and the perfect compliment!
2. Patterns by Japanese designer Gera!
Japanese designer Gera! creates the most magical and charming cross stitch patterns. Her designs have only recently been made available in the U.S., so chances are your favorite stitcher doesn't have any yet. Inspired by folk tales, classic literature, fairy tales, and medieval tapestries, Gera! patterns have a fresh, modern feel with bright color palettes and captivating details. You can check out the full collection here.
3. Thread organizers by Maison Sajou
French brand Maison Sajou makes the most beautiful vintage-inspired supplies for cross stitch and embroidery. A set of lovely thread cards or a thread palette will always be appreciated. It's the sort of supply a stitcher can never have too many of.
4. Highlighter tape
Highlighter tape is one of our favorite new cross stitch supplies. The transparent and repositionable tape helps stitchers keep their place when reading a cross stitch chart. You're going to want to get the whole rainbow!
5.  Dovo long-handled embroidery scissors
Most cross stitchers already have a favorite pair of embroidery scissors (not that most of us wouldn't mind more), but these scissors are different. At 5-inches, they are a bit larger than other embroidery snips, and with a wide short blade, they are perfect for cutting embroidery thread, yarn, and fabric. Made in Germany using old world techniques, these scissors will last a lifetime and are a pair to treasure.
6. Embroidered walnut necklace kit
Encourage your favorite cross stitcher to step outside their comfort zone and try something new. These beautiful walnut necklace kits will introduce stitchers to some embroidery stitches that might be new to them. Detailed instructions and all the necessary supplies are included in the kit.
7. Shiny Little Zoo ornament kit
This ornament kit by much-loved Satsuma Street has it all: shiny perforated paper, an amazing color scheme, and beads! This is a great choice for stitchers who are new to stitching with beads, and for anyone who like a bit of sparkle.
8. Pretty fabric
It doesn't matter how big your stash is, every stitcher loves to get more fabric. For gifting, look for fabric that has a little something special, like this lovely smokey blue polka dot linen. It's also available in natural.
9. Pincushion ring
Cross stitchers are always looking for places to park their needles while changing threads. Give them an alternative to the couch cushions with this clever pincushion ring. It's attractive enough to wear even when not stitching.
10. Sterling silver cross stitch bangle bracelet kit
Makers can wear their stitches on their sleeve, or at least on their arm, with this cross stitch bracelet kit. The stitching is done on a strip of Aida cloth which is then attached to the bangle. It's a project any stitcher would be proud to show off.
For more ideas and inspiration, visit the Stitched Modern shop, and happy stitching to everyone on your list!