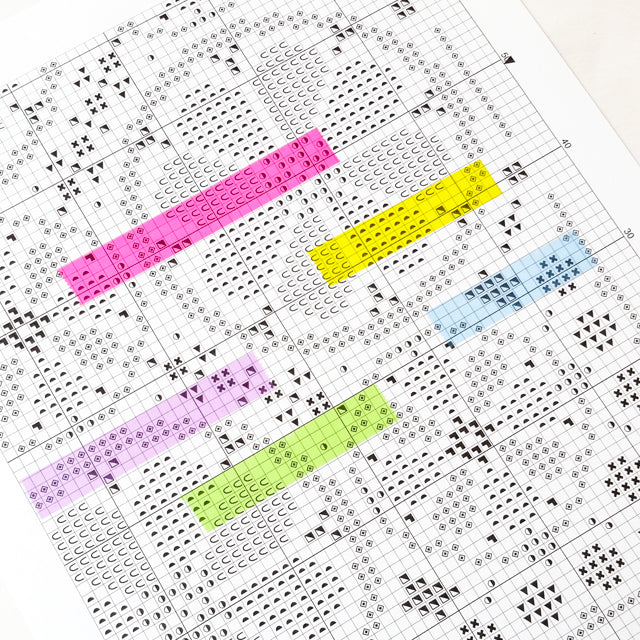 Cross stitch charts show you where to stitch and what colors to use, so it is important to be able to keep your place and know what to stitch next. Keeping good track of where you are helps minimize mistakes and makes the stitching easier and faster. 
Whether your project is large or small, here are some tips for keeping track of where you are in a cross stitch chart. For more tips on how to read a cross stitch chart, check out this post.
1. Find the center
In most cases, it is best to begin stitching a cross stitch design in the center. This is so the design will be centered on the fabric when you are done, which makes framing and other forms of finishing easier. 
Arrows at the top and side of the chart indicate the center points. For smaller patterns, it is easy enough to trace with your fingers to find the center, but for larger patterns you may wish to use a ruler and pen or pencil.
2. Use highlighter tape or a magnet board
There are several techniques for keeping track of where you are stitching at the moment. One favorite is highlighter tape. The tape comes in several different colors, and it is transparent, so you can read the chart through the tape. It is also removable and repositionable, so it won't damage your chart.
You can use the tape to color-code your progress. Use one color to mark your current area of stitching. Use another color to mark stitches you skipped and need to come back to. Other colors can be used to mark additional areas of interest.
An alternative to highlighter tape is a metal board and magnets. You can use small magnets to hold the chart to the board (for example, a small white board or metal clipboard), and then use long flat magnet strips to mark your place. Move the magnet strips as you progress through the chart.
3. Mark off stitches you have done
When you are done stitching an area, it can be helpful to mark off the completed stitches so you know what you have done. You can do this with highlighter pens or a pencil.
4. Fix mistakes right away
Ripping out stitches is never fun, but when you realize you have gotten off track with your stitches, it is better to fix them right away. If you wait you might compound the error with additional stitches that are off target.
5. Make a working copy
It can be useful to make a photocopy of your chart to use as a working copy. This is particularly true if you are planning on permanently marking up the chart with highlighter pens or similar. It also makes it easier to fold up the chart for on-the-go stitching. If the chart symbols are particularly tiny, you can also enlarge it while photocopying.
BUT - and this is a big BUT - be aware that you can photocopy a chart for your personal use only, and you should plan on destroying the copy when you are done with it. Copying and sharing a chart with other stitchers is not allowed because it violates the designer's copyright.