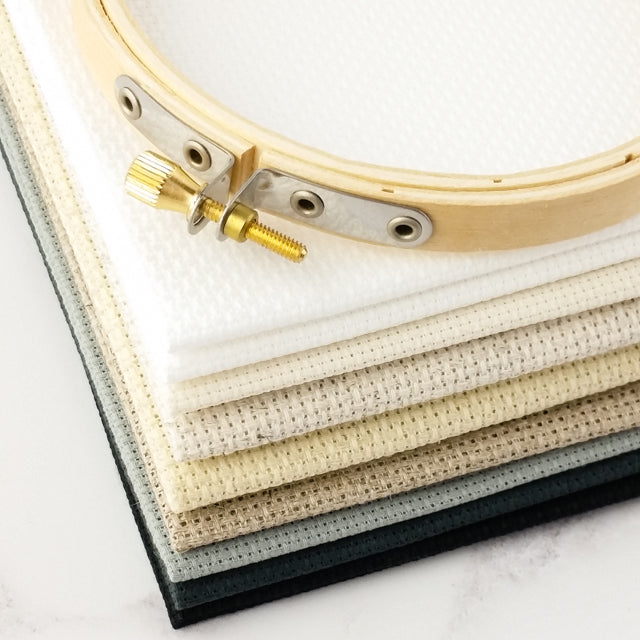 Aida cross stitch fabric comes in a dizzying array of colors, from brights and pastels to novelty prints and subtle neutrals. Choices are great, but sometimes it can be a challenge to pick out just the right fabric for your project.
In this post we compare a range Aida fabric, with a focus on whites, blacks, and natural colors, to make it easier to pick the perfect fabric for your next project. The specific fabrics included here are all manufactured by Zweigart and you can find them in our shop.
True colors
When buying fabric online, it can be hard to know exactly what a color will look like in real life. Different monitors show colors differently, so you're never quite sure what you're going to get. To make matters more challenging, colors can differ between manufacturers, so ivory Aida made by one producer might be different than ivory made by another.
Fortunately, there is an easy way to figure out the true color of cross stitch fabric before you buy. Most Aida manufacturers specify the corresponding DMC thread color that most closely match the fabric color. It's a handy reference that helps you see what the color will actually be.
Shades of white
When it comes to white Aida fabric, colors run from a bright snowy white to a creamy ivory that verges on beige. The tone you choose depends on the look you're after. Bright white has a clean, modern feel. Ivory is more antiqued and compliments more traditional designs. In the middle is Antique White which is just a bit softer than true white and is a good all-around choice.
Shades of black
Black is a striking background for cross stitch, but as with white, there are a range of options. Colors pop on a pure black background, making it a perfect choice for graphic and modern designs. Chalkboard black Aida is more dark gray than black, and is a good choice for designs that feature a lot of white stitches and for trendy chalkboard-inspired designs. Light gray fabric, called Smokey Pearl or sometimes Twilight Blue, is a softer, lighter option.
Natural colors
Fiddler's cloth is similar to Aida in that it has an even, open weave with very distinct holes that make it easy to cross stitch on. It comes in natural colors like Oatmeal with subtle flecks and variations similar to a tweed that give it a more rustic or homespun appearance. Lite Oatmeal fiddler's cloth is a favorite of many contemporary designers like Satsuma Street, where it is used in their popular city series. Aida in raw/natural is another more rustic choice.
Looking for Aida for your next project? Check out our full selection of Aida fabric here.