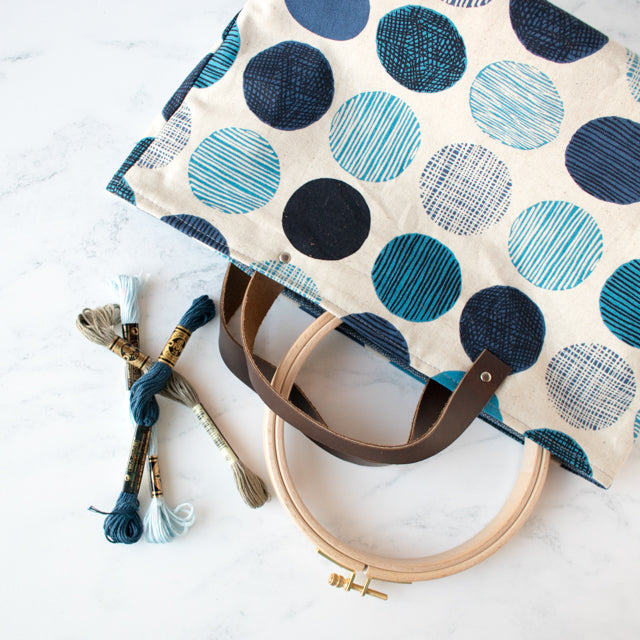 Let's face it, stitchers deserve to be spoiled. If you're looking to get your favorite stitcher (or yourself!) something special, look no further. Here are gifts any cross stitcher, hand embroiderer, or other needleworker will covet.
1. Premium hard wood embroidery hoops
Think all embroidery hoops are the same? Think again. These gorgeous hard wood hoops from Germany are the best you will find. Finely crafted from beech wood, these polished hoops are perfectly smooth, with no gaps or snags, and the edges are rounded for a super comfortable grip. They are available in both round and square shapes.
2. DMC's new Mouline Etoile floss in a limited-edition collector's tin
Earlier this year DMC released a new kind of shimmery thread that had the stitching world abuzz. Mouline Etoile is a soft embroidery floss with a subtle shimmer. It's a fun addition to any cross stitch or embroidery pattern, and while supplies last, you can get it in a limited edition collector's tin.
(Want to learn more? Check out our post What you need to know about DMC's new Mouline Etoile thread.)
3. DMC real thread color card
No more scouring thrift stores and auction sites for a DMC color card with real thread samples! The much-coveted color card was recently re-released by DMC. With real thread samples, the color card is more accurate than printed versions. It's a gift any serious stitcher would love to have.
(Wondering why you might need a color card? See our post How to use a DMC embroidery floss color card.)
4. Set of Sublime Stitching embroidery transfer pens
Packaged up in a limited edition box set, these transfer pens are perfect for hand embroidery enthusiasts. Use the heat-transfer pens to trace over a design printed on paper, and then transfer the design to fabric using a hot iron. For use with PDF printout patterns, embroidery patterns that no longer imprint, or original designs.
5. Mathilde project tote
We love this tote! Made by hand in Brooklyn from quality materials, it is the perfect carry-all for your stitching and knitting projects, or for whatever else you need to tote around. With a wide mouth, and a roomy interior, this tote is as functional as it is beautiful. 
6. Embroidery tool case with tools
No stitcher can resist a pretty case full of their favorite tools, and these beautiful ones by Sublime Stitching don't disappoint. These pretty hard-shell cases come with embroidery scissors, needles, and more.The inside is lined with magnets, so needles and scissors stay in place. Available in two designs: Midnight Garden and Nathalie Lété.
7. Satsuma Street ornament collection
Every stitcher loves a quick project, and these glittery ornaments by Satsuma Street are perfect for gift-giving. Based on classic nutcracker designs, the complete collection features five ornaments stitched on perforated paper. They're quick, fun to stitch, and will add some sparkle to your tree.
8. Dovo embroidery scissors
Most cross stitchers already have a favorite pair of embroidery scissors (not that most of us wouldn't mind more), but these scissors are different. At 5-inches, they are a bit larger than other embroidery snips, and with a wide short blade, they are perfect for cutting embroidery thread, yarn, and fabric. Made in Germany using old world techniques, these scissors will last a lifetime and are a pair to treasure.
9. Japanese graph paper notebook and pencil set
This beautiful Japanese notebook and pencil set are perfect for jotting down notes, mapping out cross stitch designs, or bullet journaling. Covered in specially made washi paper, the slim notebook and pencil box are a great size for tucking in your project bag or purse.
Created using artisan techniques in the Shitamaki region of Tokyo, the blank notebook and matching drawer-style pencil case would make a special gift for the maker in your life, or to inspire your own creative endeavors!
10. Beginning sashiko gift set
Know someone who is interested in trying sashiko stitching? This starter sashiko collection will get them up and stitching in no time. The box comes with enough material to stitch two traditional sampler cloths, plus all the notions you need including the best needles, a thimble, and a handy needle threader. 
For more ideas and inspiration, visit the Stitched Modern shop or check out our other gift guides. Looking for stocking stuffers? We've got those too. Happy stitching to everyone on your list!