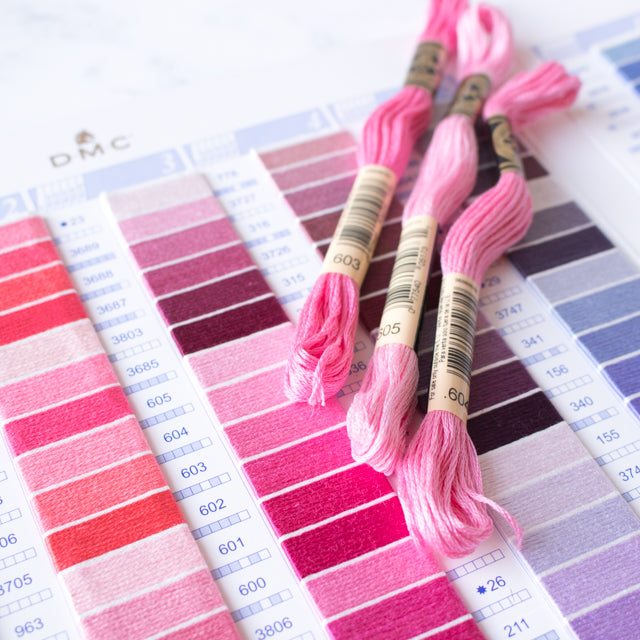 A DMC thread color card is a handy reference for any stitcher. The card shows samples of all 500+ shades of thread in the DMC line, and is chock full of helpful information.
A color card is useful when you want to swap out colors specified in a design to make it your own, or if you don't have a particular color in your stash and want to make a substitution. You can also use a color card to easily match embroidery floss to a piece of fabric, a paint color, or any other item of decor.
Here's how to use and make the most of a thread color card.
Types of color cards
Color cards come in two basic types: those with samples of actual thread, and those with printed representations of thread colors. DMC makes both kinds. It used to be hard to find the real-thread cards, but DMC recently republished the real-thread version so they are (for now) more readily available.
Color cards with actual thread samples are generally more expensive than those with printed color swatches, but they are also far more accurate. Both types of cards contain lots of great information about the various types of thread, including embroidery floss, pearl cotton, and more.
You can find digital versions of the DMC color chart online, but be aware that computer screens and home printers show colors differently. The cards produced by DMC will be much more accurate than any digital version.
Understanding shade families
Thread colors on a color card are organized not by number but by shade. This is really helpful when selecting colors because it lets you compare neighboring shades. For example, you can scan the column of blue-green shades or pink-orange or purple to find just the perfect color.
It can also be really useful when shopping for floss. At the store, DMC thread is typically organized by color number. That can make it really hard to see and compare all the colors in a particular shade because they are spread out across the rack. The color card shows them all together, so you can see at a glance what the options are.
How to find a color by its number
On some occasions you may need to reference a floss color by its number. The color locator table lists the floss numerically along with its corresponding color family column. So for example, if you are trying to discover what color floss number 3840 is, simply find it in the color number locator and then go to the column listed to see the color.
Other information on a thread card
You may be most familiar with DMC's 6-strand cotton embroidery floss, but they also make pearl cotton, along with other specialty needlework threads. The DMC color card provides information on all these lines.
When planning an embroidery project, it can be helpful to know if a particular color is available in pearl cotton as well as 6-strand floss. A graph adjacent to each color swatch tells you what thread lines the color is available in.
For example, color number 3840 is available only as 6-strand floss, while color 800 is available as 6-strand floss as well as pearl cotton size 3, size 5, and size 8.
If you're playing around with DMC's specialty threads, the color card also shows swatches for their Light Effects, Color Variations, and Satin Floss lines, among others.
In addition, the DMC color card gives helpful care and use information for each of its thread lines.
When to use a color card
There are a number of situations in which a color card can come in handy. Here are a few.
When you are designing your own cross stitch or embroidery pattern from scratch
When you don't have a color of floss specified in a pattern and you want to substitute something close from your stash
When you want to change the colors in a cross stitch or embroidery pattern to make it your own
When you want to match a DMC color to a similar color in a different brand of thread
When buying thread online for a more accurate representation of the color than what you will see on your screen 
When matching floss or pearl cotton to quilting or sewing fabric that you plan to embellish with stitching
When matching thread to paint or other objects as part of a craft project
To get basic information and care instructions for different thread lines
Other color cards
Color cards are typically available for other thread lines, as well, including Kreinik, Valdani, and more. DMC also makes a color card for their tapestry wool, as does Appleton Wool. It is worth collecting color cards for the threads you use most.
Want your own DMC color card?
At Stitched Modern, we stock the real thread version of the DMC color card. You can find it in the Stitched Modern shop.