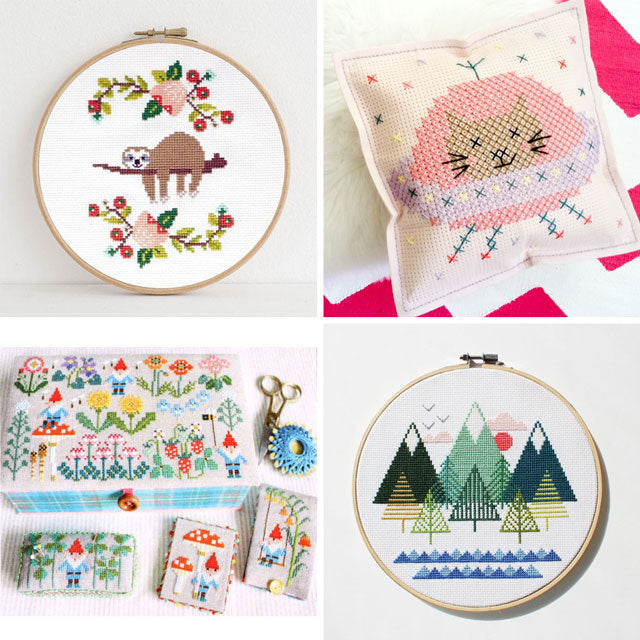 As 2017 wraps up, we're taking a look back at the cross stitch kits and patterns that were your favorites this year. Your top picks ran the gamut from chunky pillows stitched with wool to shiny ornaments studded with sequins to cuddly creatures and faraway places. It's a list any stitcher would envy.
Check out your picks below.
Pretty Little City series by Satsuma Street
It's no surprise this beloved series by Satsuma Street made it to our bestseller list. They are perfect for travel lovers, those far form home, and as gifts for friends in farflung places.
Felt Pillow Kits by Rico
With great big stitches made with wool yarn, these felt pillow kits are so much fun to stitch. Available in a range of adorable designs.
Sea to Sky Cross Stitch Kit by Diana Watters Handmade
Canadian designer Diana Watters created this pattern as a homage to the rugged beauty of British Columbia where she was born. Not surprising it was a favorite for all of you nature-lovers and adventure-seekers.
Gnomes in Springfield by Gera!
This adorable garden landscape features gnomes tucked among the toadstools and flowers. Designed by Kyoko Maruoka for Gera!, it is a pattern full of charming details to stitch.
Lazy Day by Dear Sukie
The latest designer to be added to our catalog, patterns by Canadian designer Dear Sukie have been flying off the shelves. None more so that this adorable sloth. Who wouldn't want to stitch this cute critter?
Shiny Little Zoo Ornament Kit by Satsuma Street
Cross stitch plus beads plus shiny metallic perforated paper? Yes, please! It's easy to see why this kit by Satsuma Street was a hit.
Bamboo Holiday Ornaments by Red Gate Stitchery
Another set of ornaments made it to the bestseller list, this one by Red Gate Stitchery. Stitched on wood, this super-quick kit comes in three different designs each with a bright and modern color palette. 
--
I don't know about you, but I'm already dreaming about the patterns I want to stitch in 2018. What's on your list? Let me know in the comments below!

Looking for more inspiration to fill out your 2018 project list? Check out all the great patterns and kits in the shop,