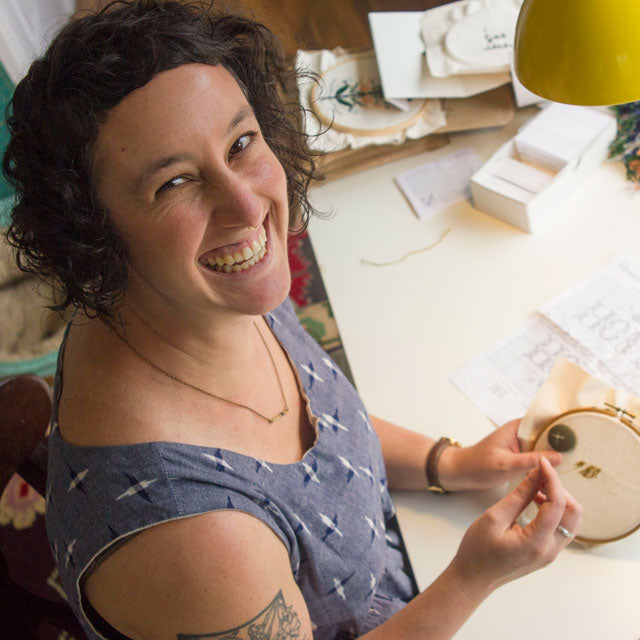 Portland-based artist and activist Zoe Frost began designing cross stitch patterns before she even knew how to cross stitch. Maybe not the most traditional route, but it is hard to argue with the results! For her brand Junebug and Darlin, Zoe combines affirmational text with lush florals to beautiful effect.

Read more about Zoe's design process and inspiration -- and find out what her favorite DMC color is! -- in this interview. For more, follow Zoe on Instagram at @junebuganddarlin.
How did you get started designing cross stitch patterns?
I taught myself how to cross-stitch 2 years ago, a month before Junebug and Darlin was started. My original co-creator and I were trying to fill a gap in the market of adult craft kits. Embroidery kits were just on the rise, but there was not a lot out there in terms of cross stitching.
I designed my first pattern, the Moon Phases kit, before I even taught myself to stitch. (Madness, right?) My friend suggested I go buy some supplies and see if I understood what I was doing, then I did a quick Google search for "how to cross-stitch" and I was immediately hooked.
The majority of my skills and understanding of stitching are 99% self-taught and 1% YouTube based. I still watch YouTube videos every now and again to check out new techniques or tips and tricks, and I've learned a lot in the past two years.I don't use any sort of pattern generator or cross-stitch program. Everything is 100% made by hand through sketches turned into PDFs in Illustrator. I think that's part of what makes my kits unique.
What is the favorite pattern you have designed and why?
This is probably the toughest question to answer about my business - each pattern I create is such a part of who I am and what I love, how am I supposed to choose a favorite? But when it comes down to it, I think my Stay Tender pattern would take the cake. I've got a soft spot for art nouveau designs, poppies and affirmations. Don't we all need a reminder to stay tender with ourselves and our processes?
What do you draw on for inspiration?
I get a lot of inspiration from queer community and activists around the world. I take a lot of care in figuring out what to say and reaching people that might not otherwise have a voice within the crafting community. Designing the florals are just an added bonus. I also get a lot of inspiration from Rifle Paper Co. florals and vintage floral patterns.
My Pinterest boards and notebooks are exploding with new ideas. I've also recently fallen into the world of researching blackwork. It's definitely inspiring me to add elements of embroidery to my patterns and keep things a little more free-form. I still have yet to learn embroidery, but I think that's a good next step. I would love to merge those two worlds even more.
What do you like to listen to or watch when you stitch?
I am a habitual podcast listener. I've got my set rotation of daily listens and am always looking for new ones because I tend to listen to around 30 hours of podcasts a week.
When I'm not listening to podcast I love to binge me some Netflix. Now that we have access to so many variations of on demand television and entertainment it's not like most people are going to stop watching. So I tell all of my customers, "you might as well do something with your hands while you binge the new series of The Crown." I get a lot of good stitching in when a new series gets released.
What is your favorite DMC color?
831 - Medium Golden Olive. It's probably one of the best colors ever made and I have to resist using it in every design. I've branched out on my newest pattern and am using 830. It's a color that I know not everyone loves, so I really try to limit it's use. But if I could build my life around one color, it would be 831.
Are there other hand crafts you like to do?
I have been sewing for about 5 years now and it is definitely my release craft. If I'm doing anything besides cross-stitch, it's most likely sewing. My goal is to work towards a 90% handmade wardrobe. I am also trying to teach myself how to knit after a long stint of crocheting the same scarf style for the past 9 years.
Inspired? Be sure to check out our full selection of Junebug and Darlin kits in the shop!