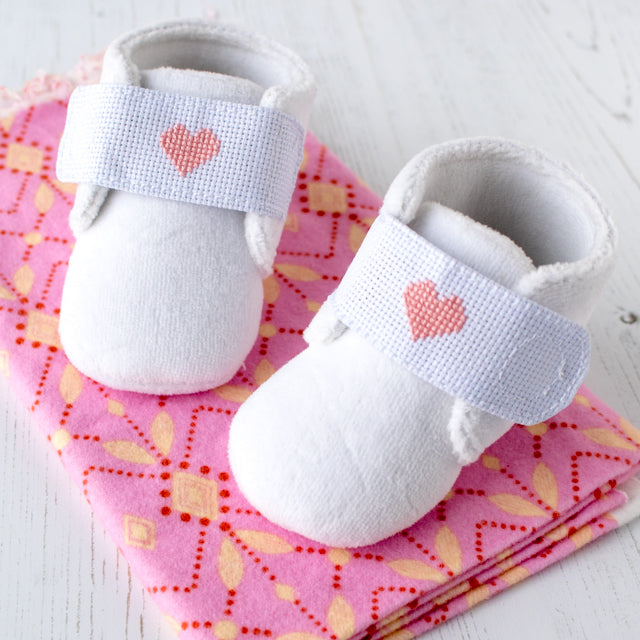 Want a special gift for a new baby? These cross stitch slippers could not be more adorable or easier to make. They are quick to stitch up with a simple motif, and make a thoughtful handmade gift.
What makes this project so easy, are these premade 100% cotton baby slippers that come ready to stitch. The cuddly booties have an Aida band with a hook-and-loop closure so you can easily adjust the fit. The slippers fit babies from 0 to 6 months.
I stitched up a couple of pairs with a simple and sweet heart motif, but you could use any number of small designs. Initials or short names would also be adorable. Here's how easy it is to make them.
Materials
Straight pins
Embroidery floss in your choice of color
Needle threader (optional)
Scissors
Find the center of the stitching band
You want your stitched motif to be centered on the Aida band. To find the center, place a straight pin to mark each edge of the stitchable area. Next count the number of stitches between the two pins. It may vary a bit for each shoe, but for my pair it was 31 stitches.
Divide the number of stitches by two, and then count in from one edge and mark the center with a third pin.
I used adorable handmade pins for this because they make me happy, but any straight pins will work.
You also want to center the design top to bottom. The heart design is 10 stitches tall. Count the number of stitches from top to bottom on the band and use that number to help you center the motif vertically.
Stitch the design
Use the chart below to stitch the heart motif. I used two strands of embroidery floss, but you could use one strand for a lighter look.
I kept the color palette light and pastel, but you could choose any color you want. Pick a hue to match a favorite outfit, or try variegated thread for a fun look.
A note on designing your own pattern
If you want to create your own design to stitch on the baby slippers, it is easy to do. The Aida band is 18 count, meaning there are 18 stitches per inch. The manufacturer says the stitching area is 17 stitches wide by 10 stitches high, but I found it to be larger. 
Determine the stitching area on your pair of slippers by placing a pin on each end of the stitching band. Count the number of squares in between the pins to determine how many stitches wide your design can be. Count the number of stitches top to bottom to determine the height.
Once you know the stitching area, you can use a piece of graph paper to map out your design. One square on the graph paper represents one stitch.
Want some design inspiration? Check out our collection of cross stitch pattern books.
Want to make a pair of these sweet booties for your favorite little one? Check them out in the Stitched Modern shop.