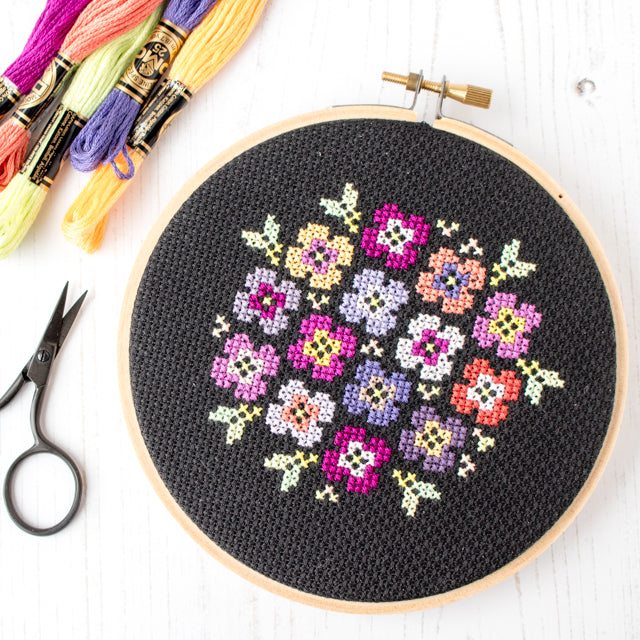 In late 2017, DMC released a collection of 35 gorgeous new embroidery thread colors. It was the first time they had introduced new colors in over a decade. I was so excited to start using them, I had to begin stitching right away.
The beautiful purples and greens and corals in the collection made me think of pansies, and the result is this pretty floral pattern. It's stitched on black so the colors really pop.
If you have never stitched on black fabric before, this is a great starter project. Black fabric can be more challenging to stitch on than light-colored fabric, so be sure to check out our tips and tricks for cross stitching on black.
Here's how to make your own pansy pattern.
Materials
(click chart for full version)
Stitching instructions
Stitch the pansy pattern using 2 strands of cotton embroidery floss. For basic how to cross stitch instructions, see our beginner's guide to cross stitch. Also be sure to check out our tips for cross stitching on black fabric.
Finishing instructions
When you're done stitching, wash and iron the fabric, and then finish the piece in a 5-inch wood hoop. See this post for instructions on how to frame cross stitch in an embroidery hoop.
The design will also fit in a 4-inch embroidery hoop if you want a tighter look.
One of the great things about this pattern is it's easy to customize. You can switch up the colors or change the palette completely. You can also stitch it on white fabric, but some of the lighter floss colors may not show up well, so swap them out with darker versions.