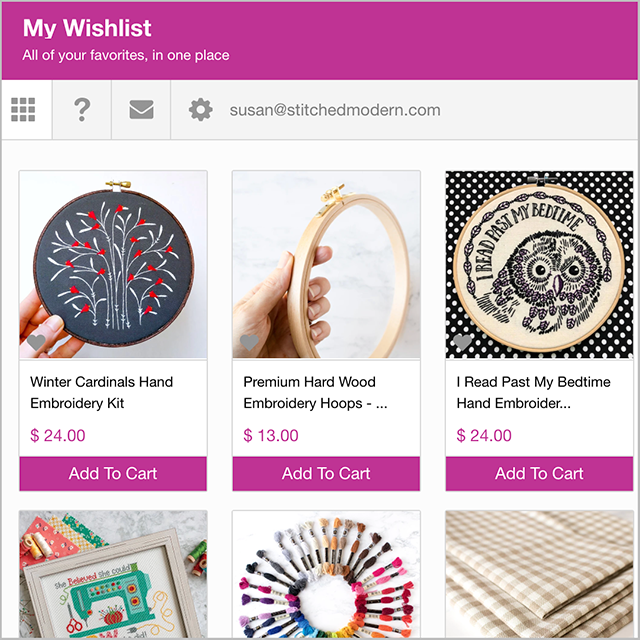 Keeping track of all the things you want to stitch, all the cute little notions you covet, and the fabric you adore just got a whole lot easier.
With our new Wishlist feature, you can add all your favorite goodies to one list. Refer back to it when you're looking for your next project, or share it with friends and family the next time they ask, "What would you like for Christmas/your birthday/Arbor Day?" (You do get presents for Arbor Day, don't you?)
Here's how it works.
Add items to your wishlist
First, find a product you love in the Stitched Modern shop. (Need some ideas? How about this or this or this.) Look for the Add to Wishlist link on the product page, and click it. Voila! That's really all you need to do. 
View your wishlist
To take a look at what's on your wishlist, click the heart icon that conveniently appears at the bottom of every page. This will bring up your wishlist.
To make it easier to view your wishlist across devices, click on the gear icon in your wishlist and enter your email address. That way whether you are browsing on your phone, tablet, or desktop, you will have one unified wishlist.
Share your wishlist
To share your wishlist, first click the heart icon at the bottom of the page to open your wishlist. Next click the email button. Enter your name, the recipient's email address, and a note if you would like. Click Send Email and you're all set!